Top Gun director Tony Scott shared his brother Ridley's passion for dynamic visual storytelling but shirked underlying agenda in favour of all-out action. Here's 10 of his best films.
In celebration of the work of British-born filmmaker Tony Scott, Top 10 Films takes a look back at a career spanning thirty years. The late director is the younger brother of Ridley Scott, sharing the Alien-director's penchant for visual style and attention to detail. However, Tony Scott's films have always appeared less showy from a thematic sense, the younger Scott preferring to concentrate on action-orientated drama than character study.
From his earliest films such as Top Gun and Beverly Hills Cop II, Tony Scott proved he could make crowd-pleasing action cinema, and was a perfect match for producers Don Simpson and Jerry Bruckheimer for their high-concept movies. He also showed versatility by adapting Quentin Tarantino's screenplay for the big screen in True Romance and the ability to operate in unfamiliar genres such as science-fiction in Déjà Vu. One of his favourite actors to work with was Denzel Washington and they made a number of film together including Crimson Tide, Man on Fire, Déjà Vu and more recently The Taking of Pelham 123 and Unstoppable.
Top 10 Films was saddened to hear this morning that Tony Scott had died yesterday in Los Angeles. He was 68 and is survived by his wife Donna Wilson Scott, and their twin sons Frank and Max.
10. Spy Game (2001)

Robert Redford takes lead duties in this Tony Scott-directed spy thriller about a CIA agent who has to put his retirement on hold to save the life of a fellow agent captured by the Chinese. Because the US Government is on the verge of a major trade agreement with the People's Republic of China, it hopes investigations will provide them with a smoking gun justifying letting their captured agent die. Redford has other plans. This fast-paced mystery-thriller is intriguing right from the get-go.
9. Crimson Tide (1995)

Denzel Washington stars alongside Gene Hackman in this submarine-based thriller that is set in a post-Cold War era where tensions between East and West are still threatening to boil over. The tension builds as a seasoned commanding officer and a younger executive officer go head to head over conflicting interpretations of an order to launch their missiles in the face of nuclear war.
8. Days of Thunder (1990)

Essentially Days of Thunder is Top Gun for motor sport. That isn't a bad thing and while the film never matches Top Gun for high octane thrills and homoerotic tendencies it is still a highly enjoyable film, especially for NASCAR fans. Like Scott's aerial photography in his earlier film about the US Navy's training school for elite pilots, Days of Thunder features some terrific race footage. While the characters might be flimsy, the emotional resonance from the racing certainly isn't.
7. Déjà vu (2006)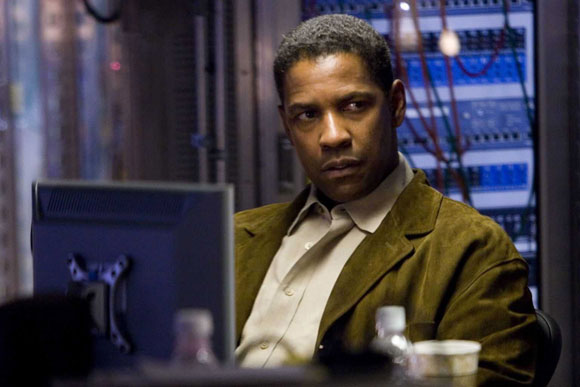 Read our full review of Déjà vu here
One of a number of Denzel Washington-Tony Scott collaborations, this one is probably their second best. It features Scott's trademark visual splendour alongside elements of science-fiction not usually associated with this side of the Scott family (the sci-fi is usually left to brother Ridley!). After a tragedy befalls a ferry on the Mississippi River causing the deaths of over 500 people, Special Agent Doug Carlin begins investigating the possibility of a terrorist attack. He discovers he has the use of new technology allowing a recently formed government detective unit to see four days into the past. When Doug learns he can manipulate the past he decides it might be possible to change the course of history.
6. Last Boy Scout (1991)

Bruce Willis, back in the days when he was the coolest thing on the planet, stars as a grubby former Secret Service agent now plying a trade as a private detective. Lethal Weapon scribe Shane Black is on hand to give the actors their dialogue, ensuring this Tony Scott film has some great characters (and a particularly fun relationship between two egotistical, power-hungry leading men) to go alongside its gritty action sequences.
5. Beverly Hills Cop II (1987)

It helps when you have such a lively, loud-mouthed and funny leading man. Eddie Murphy's Detroit cop Axel Foley is one of the 1980s most iconic characters and Tony Scott did a great job with the sequel to one of the decade's most loved action films. The focus is definitely on the guns and explosions in this one as Scott constructs some enthralling set-pieces including a great final shootout and some wonderful heists.
4. Top Gun (1986)

Perhaps the most well-known Tony Scott film, Top Gun was revolutionary in its inspiration for a host of high-concept films to appear in the 1980s and 1990s. Tom Cruise is the far-too-good-looking pilot who heads off to training camp and makes everyone else look second rate (apart from chief rival Val Kilmer that is). Fantastic aerial photography, energetic performances and one of the best movie kisses of all time make this an easy-to-love action film.
3. Man on Fire (2004)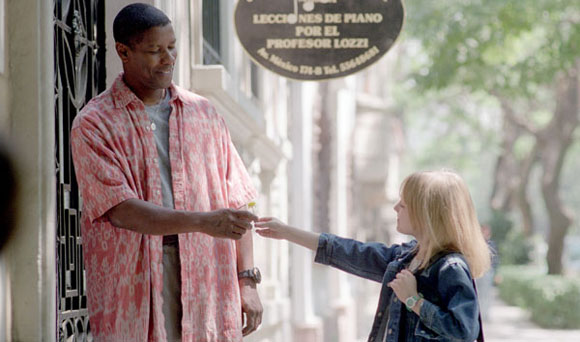 Denzel Washington made a number of appearances in Tony Scott's later films and this is by far the most impressive. Alongside a strong performance from child star Dakota Fanning, Washington plays a disillusioned ex-CIA operative turned bodyguard, who is assigned to protecting the daughter of a wealthy businessman in Mexico. The emotional ferocity of the film comes from the growing friendship between the protector and the protected – think Leon or Terminator 2.
2. True Romance (1993)

True Romance features an interesting combination of Tony Scott in the director's chair, working with a screenplay by Quentin Tarantino. What transpires is one of the best films of either man's career. Scott gets the chance to work with dialogue and staging that somewhat tempers his inherent drive to propel the plot through the next action sequence, while Tarantino's script gets worked over without the Pulp Fiction director's insatiable need to keep every bit of his precious dialogue intact. With some terrific performances from one of the 1990s best ensemble casts which includes Christian Slater, Patricia Arquette, Dennis Hopper, Gary Oldman, Christopher Walken and Brad Pitt (as well as a blink and you'll miss him turn from Val Kilmer – see if you recognise him), True Romance has all the elements of an action film you'll return to again and again. Indeed, if Tarantino has a romantic film in him, this is probably it, and it's about the greatest love story I've ever seen.
1. Enemy of the State (1998)

Its sly homage to Francis Ford Coppola's The Conversation, arguably The Godfather director's finest couple of hours, may celebrate a 1970s classic but in no way hampers this terrifically entertaining action film about covert surveillance and sub-government organisations sidestepping the law. Gene Hackman, who starred in The Conversation, appears as an aging ex-professional surveillance expert who steps in to help Will Smith who unwittingly becomes the target in a high stake game of cat and mouse. Tony Scott made many great action films during his career but none are as goose-pimply exciting as Enemy of the State. This film is like an out of control freight train and you never know what is going to happen next.
Written and compiled by Daniel Stephens.
For all the latest top 10s, reviews and competitions follow Top 10 Films on Twitter!
Your turn – what are your favourite Tony Scott films?
Discover More on Top10Films.co.uk:
Search our collection of Top 10 lists sorted by type:
THEME | ACTOR | DIRECTOR | TIME PERIOD | GENRE | COUNTRY | SPECIAL INTEREST | FUNNY
See the A – Z of films featured on Top 10 Films / Check out our film review database