Great films. Widely loved. Darlings to the critics. Adored by casual film-goers and buffs alike. But films we never want to see again. Why? Alex Withrow tries to find out…
I saw Alexander Payne's brilliantly bitter, wine-induced road-trip Sideways and was bowled over by its emotional resonance and Paul Giamatti's beautifully fragile performance. The film was so good I watched it again, almost straight away. A day later I watched it for a third time. It is one of the best films I've ever seen and one of the few that I've had to watch again immediately.
However, there are other films I've watched, appreciated, and never wanted to see again. Ever! One recent example is Eden Lake – a powerful, downbeat, raw and bloody British horror film that is uncompromising in its depiction of violence and its overarching pessimism towards the state of modern society. I love a good horror film and Eden Lake is undoubtedly a well made example of the genre. But it was too much for me. It wasn't the violence but the lack of closure more than anything. A horror film has to have a sense of fun about it (Rosemary's Baby, Dawn Of The Dead) if good fails to triumph over evil for me to go back and experience it again. Like Funny Games, Eden Lake grips you in a vice and is still holding on long after the credits have rolled. There is something exciting about the way a film can do this to you – it is one of the reasons we all love cinema – but sometimes it means I never want to go back.
Top 10 Films contributor Alex Withrow recently took a look at 10 great films, widely appreciated by film fans and critics, that he has no intention of returning to. He said, "We've all got them, that handful of films we love, but have never watched twice. Maybe it's because they're disturbing, maybe it's because they're long, or gory, or complicated – whatever the reason(s), there is something strange and unusually beautiful about a really good movie that you have virtually no interest in seeing more than once."
Alex's top 10 makes for a very interesting read…
Triumph of the Will (1935)

Often recalled as a technical masterpiece, Leni Riefenstahl's Triumph of the Will glorified Adolf Hitler and his Nazi Party by imploring flawless camera work and game-changing editing techniques. For nearly two hours, we're privy to the most gorgeous Nazi propaganda film ever captured. Hitler looks like a God as he screams from atop a pulpit in front of thousands of his men. For fans of filmmaking as a craft, Triumph of the Will is completely necessary. For everyone else? Probably not. Either way, once is enough.
Henry: Portrait of a Serial Killer (1986)

Toward the middle of Henry, the titular character and his partner in crime break into a home and murder the innocent people inhabiting it. So… what's the big deal? By this point, we've seen Henry kill a handful of people in increasingly gruesome ways, so what makes this home invasion so hard to stomach? Well, in an ingenious but of storytelling, director John McNaughton lets the scene play out via a home recording that Henry's partner shot. One take. One long, grainy, horrific, brilliant take. I appreciate what Henry did (and how it did it) but once that scene was over, I told myself that Yeah, I'm only watching this thing once.
Read our review of Henry: Portrait of a Serial Killer
Man Bites Dog (1992)

Okay, you know that one scene in Henry? Imagine watching an entire film of that shit. In Man Bites Dog, two documentary filmmakers follow Ben, a candid, charismatic serial killer, around as he murders and maims people for no goddamn reason. The movie is dry, hilarious, gruesome, and bearable. That is, until the directors themselves begin to join Ben on the "fun." You think it's bad… until it gets worse. (Note: for those unaware, Man Bites Dog is NOT a real documentary, but one of the first, most ingenious uses of the now overused mockumentary technique).
Kids (1995)

I know people who idolize the hell out of Larry Clarke's teenage angst nightmare, and fair enough. It's a good movie that gets its point across effectively. Again, and again, and again. I saw this movie when I was quite young and have always positively acknowledged its audacity. And I have never once felt the need to revisit it.
The War Zone (1999)

When I profiled Ray Winstone, I was careful to not describe much of the horror that is depicted in Tim Roth's The War Zone. Ten seconds of Googling will reveal its big reveal, but it's still something I don't want to divulge here. It's a heartfelt, devastating family drama that has sent audience members screaming while running away from it. No, really.
The Magdalene Sisters (2002)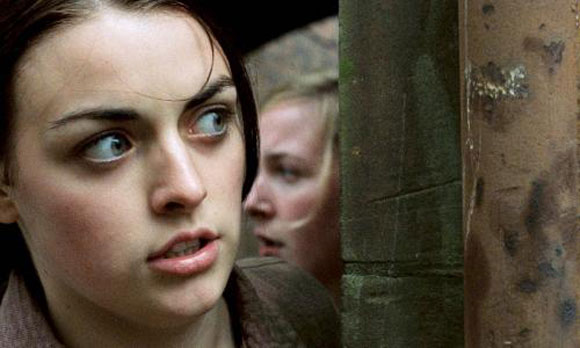 Peter Mullan's masterful Magdalene Sisters tells four fictional stories of a real life place where teenage girls were sent for behaving "badly." After Margaret is raped by her cousin, and Bernadette grows to become too attractive, and Rose gives birth without being married, and Crispina is born mentally disabled, they are sent to the Magdalene Laundries, where they are victim to countless physical, sexual and emotional assaults. Believe me, this is a very good movie, but one that I've never been able to muster up the strength to take in twice.
The Passion of the Christ (2004)

Labeling Mel Gibson's Jesus movie as "great" may be a stretch, but the point is, I appreciate what Gibson did with it. He pushed it far as far is it could go, made a shit load of money and has been entertaining us with his antics ever since. I saw Passion of the Christ when I was a senior in high school, and once poor Jim Caviezel was whipped for the 978th time, I knew I would never have a reason to sit through it again.
Antichrist (2009)

No list of this sort would be complete without the mention of Lars von Trier. And really, you can take your pick here. Whether it's Dogville's aggravating minimalism, Breaking the Waves' increasing turmoil, or Dancer in the Dark's utter dread, Lars von Trier simply doesn't make easy films. And although I happen to love every single one of his movies, Antichrist is my pick for the von Trier flick I love to never rewatch. The block of wood, the scissors, the grindstone – and the blood. It's all so perfectly von Trierian, and perfectly non repeatable.
Enter the Void (2009)

The notion of having Lars von Trier occupy a spot on this list is as obvious as Gaspar Noé occupying one. His first film, I Stand Alone, famously (and thankfully) warned audiences that they had 30 seconds to leave the theater before its final act began, while Irreversible is, well, Irreversible, but Enter the Void is one of the few movies that the second it was finished, I let out an audible exhale and silently told myself that I Did it. I sat through every one of its dizzying, puzzling, miraculous 154 minutes, and when the credits cued, I was proud of having watched it, but knew it was something I'd likely never see again.
Tyrannosaur (2011)

Having Paddy Considine's Tyrannosaur here may not be exactly fair, as it has been out for less than a year, but this is one hell of a ferocious character study that I thoroughly "enjoyed" and, at this point in time, have no interest in repeat viewings. The film chronicles the angry, vengeful, Joseph, (played by Peter Mullan, the director of The Magdalene Sisters) as he attempts to turn a corner and find some sort of value in life. Literally, from minute one, Tyrannosaur is a rough, rough ride, but one that I, by the end, found oddly cathartic. But once, mind you. Just once.
Read our review of Tyrannosaur
Over to you – what great films do you have no intention of watching again?
Alex Withrow is a magazine Editor based in Richmond, Virginia. He has been the sole writer of And So it Begins since it went live in 2007. He appreciates, and is obsessed with, anything related to film. Whether it's writing about them, watching them, or making them, he is a cinephile dedicated to the moving picture. You can read more of Alex's writing on film at his website and follow him on Twitter @shiftingPersona
Discover More on Top10Films.co.uk:
Search our collection of Top 10 lists sorted by type:
THEME | ACTOR | DIRECTOR | TIME PERIOD | GENRE | COUNTRY | SPECIAL INTEREST | FUNNY
See the A – Z of films featured on Top 10 Films / Check out our film review database