Brian De Palma – one of the great American filmmakers is also one of the country's most underrated. Mike Sutton looks back over the director's fifty-year career to celebrate his 10 best films.
Brian De Palma has been making films for over fifty years and he hasn't finished yet. His latest work Passion, an erotic thriller starring Rachel McAdams and Noomie Rapace, will be appearing at the Venice Film Festival in September and he's reportedly about to start work on a film with Jason Statham. Somehow though, he's still grossly underrated by a section of film critics who claim to be offended by his choice of subject matter and his blatant use of Alfred Hitchcock as an inspiration but seem mostly to be affronted by his mastery of film technique as an end in itself.
He's certainly had his failures – Bonfire of the Vanities is one of the most renowned flops in cinema history – but when he's on form, he's hard to beat for sheer nerve and entertainment value. If he's perhaps not the best American director, he's probably my personal favourite. It was hard to choose just ten films – I particularly regret the omission of Raising Cain, Body Double, and Mission Impossible – but these are all pretty representative.
10. Carlito's Way (1993)

Very familiar material; ex-con decides to go straight but gets dragged down by his past and his associates. But it's renewed by excellent performances from Al Pacino and Sean Penn and dazzling directorial flourishes. Probably De Palma's most emotionally fulfilling work and a good example of the use of an extended flashback.
9. Sisters (1972)

Not De Palma's first thriller but his first big success and an object lesson in suspense and the use of split-screen as a device for building tension. It's a bridge between his early independent work and more mainstream later work with a straightforward narrative interrupted by bursts of nightmarish surrealism.
8. Scarface (1983)

A relatively restrained film for De Palma which only occasionally shows off his masterful technique. But it's unforgettable for the steamy atmosphere, the richly hammy supporting performances and the opportunity it gives for Al Pacino to create an iconic character, complete with a catchphrase and a machine gun.
7. Phantom Of The Paradise (1974)

A film which is particularly beloved of many people and which stands up well today, unlike many rock musicals of the 1970s. Paul Williams' score and William Finlay's performance are cornerstones from which De Palma builds a phantasmagoria of sound and colour while indulging his taste for a mixture of black comedy and human tragedy.
6. Hi, Mom! (1970)

One of the director's early comedies with Robert De Niro, there are plenty of uncomfortable laughs in the freewheeling narrative. But it's particularly notable as one of De Palma's most political films – the central section involves a theatrical event called "Be Black Baby" which is both comically grotesque and oddly disturbing.
5. The Fury (1978)

Astonishingly assured in its visual sense, this is one of De Palma's most mainstream films – a conspiracy thriller mixed with supernatural horror – but also one of his most audacious. The use of different speeds of slow-motion in a third-act chase sequence is as daring as anything he's ever done and the dreamlike tone of the film is unlike anything else.
4. Blow Out (1981)

A major commercial flop on release, Blow Out has gained a high reputation over the years and is now considered one of the key films of the 1980s. It's got great performances from John Travolta and Nancy Allen, some nail-biting suspense scenes and a conclusion which comes like an unexpected punch in the gut.
3. Femme Fatale (2002)

De Palma's best film of the past ten years, this is a witty and sensual thriller which plays around with narrative conventions and makes great use of Rebecca Romijn Stamos' stunning good looks. It's got nods to numerous other movies, plenty of tension and the most erotic jewel robbery scene ever filmed.
2. Carrie (1976)

For my money, the best Stephen King adaptation and the best use cinema has ever made of Sissy Spacek's quality of slightly distant vulnerability. De Palma orchestrates unforgettable extended suspense sequences without losing sight of his main characters – the tragic title character and her terrifying mother, played with total conviction by Piper Laurie.
1. Dressed To Kill (1980)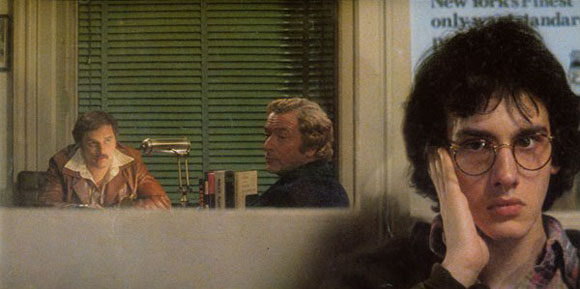 One of my personal top five films and as accomplished a piece of filmmaking as I've ever seen, De Palma's ulitmate riff on Hitchcock takes the work of the Master of Suspense and gives it so many spins that it becomes entirely his own; he even begins and ends in a shower.
Add to that the music of Pino Donaggio, the scene in the art gallery, the lift murder, the subway stalking and the extraordinary camera track down a staircase and you have sheer heaven for De Palma fans. It's also intentionally very, very funny.
Written and compiled by Mike Sutton.
For all the latest top 10s, reviews and competitions follow Top 10 Films on Twitter!
Your turn – what are your favourite Brian De Palma films?
Discover More on Top10Films.co.uk:
Search our collection of Top 10 lists sorted by type:
THEME | ACTOR | DIRECTOR | TIME PERIOD | GENRE | COUNTRY | SPECIAL INTEREST | FUNNY
See the A – Z of films featured on Top 10 Films / Check out our film review database