One of John Candy's weaker vehicles sees the larger-than-life actor inside a television soap opera with the ability to write his destiny. A good idea but poor delivery.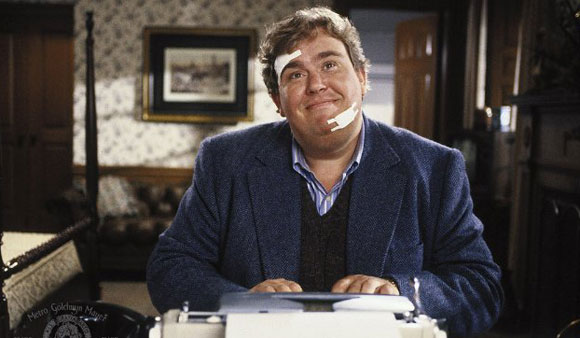 [ad#Google text Ad – square no border]
Delirious sees John Candy as a successful television soap opera writer who becomes increasingly hampered by over-zealous executives who are taking more and more creative control away from him. After disputes over plot suggestions, the arrival of a competing writer, and disagreements over who should be brought in to play new characters, Jack (Candy) decides to get away. However, when packing the car to leave he accidentally hits his head on the boot of the car knocking himself unconscious after seeing Laura (Emma Samms), a girl he can't stop fantasising about, kissing a fellow member of the cast. He awakens to find himself inside his own soap opera, being tendered to by the doctor character he created. Bewildered, he eventually gets out of the hospital to find his typewriter, a device he always wrote his scripts on, and soon learns that what he writes comes true in the world that surrounds him, and at last, he can write himself some true love.
This film is first and foremost, very dull. Its subject matter is light and breezy, yet it makes it dull and boring to hear and see. Its major selling point is the fact that Jack can write on his typewriter and then, whatever he has written, would come true when he is inside the soap opera. This idea is toyed with but it is done so in such a clichéd way, it is just tedious to watch. I'm reminded of the much better film Pleasantville which also looked at what it would be like to be suddenly inside a soap opera. At least in Pleasantville there was a warm heart beating at its core, with colourful, well-created characters and a funny, touching script. Delirious has none of those things. It is a cold movie, which fails to engage you.
Writers Lawrence J. Cohen and Fred Freeman manage to provide only a handful of funny jokes throughout the whole movie, while maintaining no 'real' characters that have any emotional depth, and they keep the pace chugging along at a snails pace. The pace of the film is more than likely down to the fact it has no story, and it wouldn't surprise if even the writers hadn't got a clue where it was going as they were writing it. Its major flaw, is its stale characters. John Candy's character isn't very likeable in the first place, so it is difficult for the film to progress if the main lead has no emotional pull for the audience. Everyone else work around a very weak plot, which doesn't make a lot of sense, and you'd think they all knew it because all the supporting actors look, in all fairness, bored.
I did like the way the characters inside the soap opera were 'hammed' up, much like the soap opera as it is seen on the television. This gave a feeling that he was indeed inside a television show. Other little attributes reinforced this like for instance, the over-the-top music denoting a supposedly important plot dilemma. I was disappointed with Candy, who wasn't his lively, bubbly self, but on occasion he did raise some of the scripted lines up a comedy level.
Review by Daniel Stephens – See all reviews
Directed by: Tom Mankiewicz
Written by: Fred Freeman, Lawrence J. Cohen
Starring: John Candy, Mariel Hemingway, Emma Samms, David Rasche, Raymond Burr
Released: 1991 / Genre: Comedy / Country: USA / IMDB

Buy from Amazon.co.uk: DVD