Movies Kick Ass founder Jose Solis returns to Top 10 Films to run down his top 10 performances found in the work of the master of suspense Alfred Hitchcock.
In a career that spanned over five decades and turned him into the undisputed "master of suspense", Alfred Hitchcock was rarely recognized as a superb actors' director. Granted, as he became more famous and his style became more iconic, he became the biggest star of all his movies – something that he cherished – yet the work provided by actors under him achieved new levels of brilliance too. His earliest films show a tendency towards the hoakey, while his latter day masterpieces feature characters who can evoke entire Freudian theories with a single line reading.
Hitch was never a fan of his actors, after infamously asking Ingrid Bergman to "fake it" when she confessed she had trouble finding her character's emotional center, he called her "pretty but stupid" and in another instance he referred to actors as "cattle". However behind their backs, Hitchcock knew when he was in the presence of greatness, as was the case in Psycho where with apparent carelessness he chose not to rehearse much with Anthony Perkins, causing him to doubt his skills, when in reality the director thought there wasn't anything to do with him because he was already at the top of his game. Perhaps because he seemed so displeased with the idea of actors, many felt the need to impress him by giving his movies their all. Strategy which worked wonders as we now consider some of his movies to be true benchmarks of screen performances. He thought that getting out of their way was the best technique to allow actors to do their best work and whenever he saw brilliance he applied the rule he used when he directed Charles Laughton: "the best you can hope for [when directing a great actor] is to referee".
10. Cary Grant in North by Northwest
Cary Grant rarely played anything other than "himself". At least that's what he made audiences think in movies that ranged from screwball comedies (His Girl Friday) to romantic melodramas (An Affair to Remember) which highlighted his suave demeanor and effortless charisma. Hitchcock himself had exploited this beautifully in To Catch a Thief, where his character is reluctantly seduced by an aggressive bachelorette played by Grace Kelly. For what would be his last movie with "the master", Grant once more allowed the values of his onscreen persona to be subverted in what became his finest performance. Playing "everyman" Roger Thornhill, the actor finally seemed to have become comfortable with the idea that he would never be able to portray a regular person. Instead he spends the entire movie reminding us why he became a movie star.
His wry smiles and shocked faces can never overshadow his legendary handsomeness and the way in which Hitchcock tortures his character reminds us of the ways in which he made his leading ladies suffer. Added to this, we see how his character once again becomes slave to the whims of a woman (Eva Marie Saint) who not only outsmarts him but has a more "important" job as well. Can it be that Grant all along was delivering a complex study of the way in which the values of masculinity are merely in the eye of the beholder?
9. Tippi Hedren in Marnie
Good old Hitch had a bit of a Pygmalion complex. Throughout his career he tried to create the perfect movie star. He perfected it with Grace Kelly but then lost her to a prince, he tried it out with Vera Miles but lost her to "real life" and when he tried it once last time with former model Tippi Hedren, the results weren't exactly what he expected. Yet revisiting her affected performance as the title kleptomaniac in the master's last true masterpiece, one discovers layers of complexity that might've been off putting to those who watched it when it was first released. On the surface, Marnie is the regular Hitchcock blonde, but no other actress was ever truly able to go beyond the iciness of the appearance to dig deeper into the reasons why the characters they played became who they were. Of course, the movie explains the reason of Marnie's trauma, but even before that, Hedren has tapped into something primal. Her gestures evoke fear and repulsion, she always reminds us that love and hate go hand to hand.
8. Farley Granger in Rope

In his representation of the Leopold and Loeb murder, Hitchcock once again relished in his particular brand of macabre humor. He has Farley Granger play the sensuous aesthete Phillip Morgan, who with the desire to satiate a purely intellectual craving, murders a young man with his friend Brandon Shaw (John Dall). Hitchcock's chamber piece by excellence, unfolds in a single location which not only reminds us of a stage, but also puts his actors under the constant scrutiny of the camera. It becomes truly delicious then to watch Granger so sadistically play a dangerous game as he dares others to catch him. The film has dark homosexual undertones and Hitchcock seems to be enjoying the characters' ideas more than he should, but Granger never gives a false step. His performance remains constantly menacing and seductive, sometimes even making us forget that we know what he's capable of.
7. Claude Rains in Notorious

As the wicked Nazi in love with Ingrid Bergman's Alicia, Claude Rains gives one of the most touching villainous performances of all time. Is it his fault that he fell for a woman who was sent to spy on him? Is it his fault that upon realizing how he's been betrayed he tries to seek justice? Is it his fault that he's become so wrapped up in his mother's (the delightfully evil Leopoldine Konstantin) plans that he truly never achieved maturity as an adult? Rains provokes our sympathy, our disdain and ultimately our pity, in the kind of performance that to this day defies categorization.
6. Joan Fontaine in Rebecca
Few actresses have evoked innocence and first love with the sublime intensity of Joan Fontaine in Rebecca. Playing the nameless new Mrs. de Winter, the young actress lights up the screen with her shy smile and affecting line deliveries. Paired with the superb Laurence Olivier who plays her husband, Fontaine achieves a remarkable delicateness. See the way she becomes impossible not to watch whenever she smiles and how easily she seems to vanish when her character is under emotional duress. She truly plays a quiet wallflower and by the time she eventually blossoms, we too are convinced that she would be able to banish demons of the past with a single caress.
5. James Stewart in Vertigo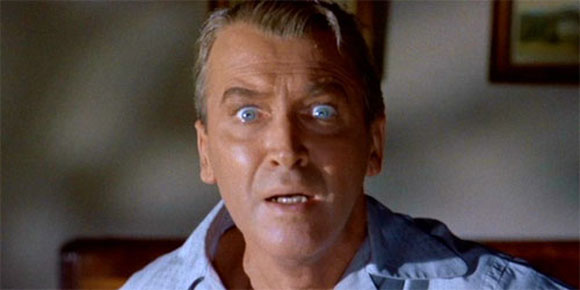 If Hitchcock harbored a certain fascination with transforming others into versions that would please him, then Jimmy Stewart gave the greatest performance of the master as the necrophiliac detective of Vertigo. His Scottie Ferguson is leagues away from being an archetypal Stewart character. Few would ever imagine America's favorite every-man playing a man who becomes obsessed with a dead woman, to the point that he fashions someone else after her, in order to fulfill his sexual fantasies. On the surface, the movie sounds completely disturbing and sick even, but Stewart allowed us into Scottie's mind and we seem to understand why is it that the love he feels for Kim Novak's character, literally can defy life and death.
4. Janet Leigh in Psycho
For all actresses nowadays who think that giving a vanity-free performance means exclusively gaining weight or recurring to old age makeup, it must be impossible to imagine doing what Janet Leigh did in 1960. Called for the first time by the world's most famous director, she accepted to play the role of a woman who steals some money, spends most of her scenes in her underwear and then is murdered before we can get a chance to truly "know" her. Added to this, Leigh has acknowledged in interviews that she knew this would be the only time she would work for Hitchcock, as he would never call her again after her character's shocking – and iconic – demise.
Would any other actress have lent herself to such a contract? Isn't the idea behind movie stardom to be admired and emulated by audiences? Apparently those were never issues for the classy Miss Leigh and as time proved it, her performance in Psycho remains one of the most chilling ever put onscreen. Now how's that for lacking vanity?
3. Judith Anderson in Rebecca

The character of the wicked Mrs. Danvers is mentioned as being matronly and almost motherly in Daphne du Maurier's Rebecca. Hithcock however envisioned her as something more detestable. He cast veteran theater actress Judith Anderson and had he play something that seems as if it just escaped hell. Her Mrs. Danvers is a ghastly apparition that hovers, never walks, as she threatens to bring back the title character while terrorizing her employer's new wife (Joan Fontaine). The beauty of the performance is that Anderson plays the master's game to perfection, never hesitating to turn the evil up a notch if she has to. Watch how she rarely seems to blink, how she spits each word with utmost venom and eventually how she screams in terror as she's devoured by the flames of hell where she sprang from. In an interview with Francois Truffaut, Hitchcock confessed that he never wanted Danvers to feel human. Anderson complied and delivered a performance made out of pure otherworldly evil.
2. Anthony Perkins in Psycho

The Norman Bates described in Robert Bloch's novel Psycho, has little to do with the boyishly handsome, lanky figure of Anthony Perkins, but Hitchcock knew he would be saying much, much more by finding evil in this matinee idol. That Perkins lent himself to this experiment – that pretty much defined the rest of his career – is one of those rare times when movie stars are able to visualize the importance of a role in their lives. Perkins came up with some of Norman's most unusual quirks, like his candy corn gulping whenever he's nervous, and by having little preparation with his director before shooting began, he pretty much made sure that each of his scenes was pure movie magic. Perkins gives one of the most chilling performances of all time, which is surprising because very often Norman could've fallen into pure cliché or camp (think about the second to last scene where we learn his secret) but the young actor went beyond what the material suggested and even allowed us to find some humanity within this monster. The scene where he talks to Marion in the motel's parlor is nothing if not a beautiful exchange where we find ourselves rooting for him to get the girl. What comes afterwards only breaks our hearts a little, even if we know Norman was the cause of his own tragedies.
1. Ingrid Bergman in Notorious
Ingrid Bergman was rarely as radiant as she was in Notorious. Playing reluctant spy Alicia Huberman, she channels a vulnerability she would only reveal again three decades later in Ingmar Bergman's Autumn Sonata. Alicia goes through various stages and seems to always be putting on a performance. See how effortlessly she seduces her target (Claude Rains) by using her charms. See also, how she plays the part of a wounded but prideful creature when her true lover (Cary Grant) begins to doubt her intentions. Then watch how she melts in his arms and how she sets the screen on fire. That scene where she can't stop kissing Cary Grant is sexier than almost anything else ever filmed. The beauty of Ms. Bergman in Notorious is that after watching her marvelous skills, even we begin to doubt who she really is. She keeps us guessing until the very end, announcing how Hitchcock was always able to convey a profound sense of duality even in movies about Nazi spies.
Discover More: Top 10 Alfred Hitchcock Films | Top 10 Alfred Hitchcock Actresses
Over to you – what are your favourite performances in Alfred Hitchcock films?
Written and compiled by Jose Solis.

Jose is a professional writer and film critic who contributes for web and print publications in the USA, the UK and Costa Rica. You can read more of Jose's work at his site Movies Kick Ass or follow him on Twitter @Josekicksass.
Discover More on Top10Films.co.uk:
Search our collection of Top 10 lists sorted by type:
THEME | ACTOR | DIRECTOR | TIME PERIOD | GENRE | COUNTRY | SPECIAL INTEREST | FUNNY
See the A – Z of films featured on Top 10 Films / Check out our film review database