Top 10 Films' Classic Scenes looks at some of cinema's most memorable moments that live long in the minds of every audience that has witnessed them.
[ad#Google text Ad – square no border]
Smile you son of a bitch! Chief Brody (Roy Scheider) utters those defiant words in the face of ultimate doom. Having lost his friends and fellow seafarers Quint (Robert Shaw) and Hooper (Richard Dreyfuss) to the Great White teeth in the Atlantic, Brody has extinguished his rifle's bullets and all his energy with the shark preparing one final fatal assault. But being a proactive, forward-thinking Chief of Police, Brody has one bullet tucked away for a rainy day. And it is raining hard. Having tried to deter the shark by chipping a tooth with a diver's oxygen tank, the all-you-can-eat-loving fish is merrily using the metallic cylinder as a toothpick before devouring the gun-toting Amity Islander. But having a brain the size of a car engine isn't always conducive to smart thinking and so Brody senses his opportunity. With his other bullets failing to even graze the shark's ego, his last attempt may be more persuasive. Targeting the oxygen tank, doubling as a small but devastating explosive, he lets loose his final shot. BOOM!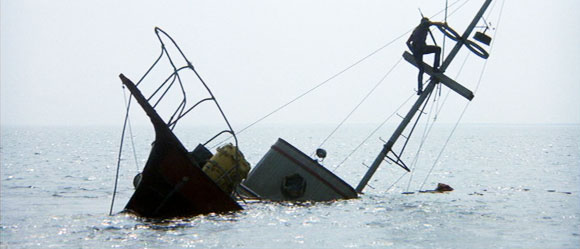 Written by Daniel Stephens
For more Classic Scenes – click here
Discover More on Top10Films.co.uk:
Search our collection of Top 10 lists sorted by type:
THEME | ACTOR | DIRECTOR | TIME PERIOD | GENRE | COUNTRY | SPECIAL INTEREST | FUNNY
See the A – Z of films featured on Top 10 Films / Check out our film review database