What films do you turn to when you're feeling blue? Here's a selection of my favourites – the rainy day/comfort food films that always manage to make things feel a little better.
When you're having a bad day there's nothing like a great film to take your mind off whatever is bothering you. These comfort food films differ for everyone but there's a common thread – they all have an ability to grab your attention, to pull you away from your heartache, pain or stresses of everyday living, and take you and your imagination on a two-hour holiday away from it all.
For me, I need these films from time to time. Heck, everyone does. I always find myself drifting back to the 1980s. Perhaps they are a reminder, given that I experienced many of them for the first time in childhood, of a more innocent time when the biggest worry was getting your homework in on time or never being kissed! Unsurprisingly, comedy is a big factor in these pick-me-up films since, as we all know, laughter is the best medicine. But I also find horror films perfect for these occasions because of the genre's ability to get the heart pumping and the nerves jangling for an entirely safe kind of anxiety.
So here's ten of my favourite pick-me-up films, those most likely to lift my mood when the blues have set in. I'd be interested to hear yours too…
Also, check out our Top 25 Films to Make You Happy.
10. The Italian Job (Peter Collinson, 1969)

There's two main reasons why The Italian Job is a such a great movie. One – Michael Caine; two – the entire heist sequence following the exploits of three Mini Coopers as they escape a gridlocked Turin to the tune of Get A Bloomin Move On, which is more commonly known as the Self Preservation Society after its chorus. The film never fails to put a smile on my face.
9. Contact (Robert Zemeckis, 1997)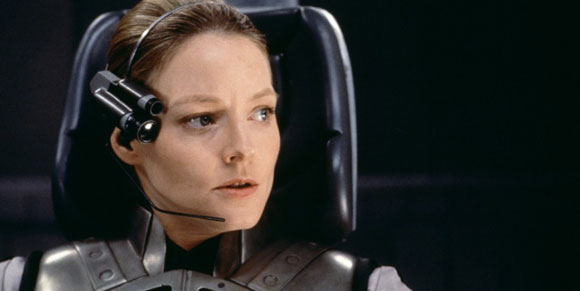 Robert Zemeckis has an ability to capture my imagination in almost every film he's ever done. Well, up to his departure from real life into motion capture that is. Thankfully, his great body of work prior to his obsession with modern CGI has left us some of the best films of the last thirty years. From the Back To The Future trilogy to Death Becomes Her and Used Cars and Who Framed Roger Rabbit and Cast Away and Forrest Gump, he's a filmmaker of great consistency. His imagination has propelled him to the forefront of the post-Spielberg/Lucas generation of directors, while his storytelling ability is second to none. While all his films could apply to this topic, not least Back To The Future (which is a big favourite of mine), Contact stands out for its open-mindedness, celebration of innocent childlike values, and wide-eyed view of the world from a grounded perspective that mixes science-fiction with science-fact.
See also: Top 10 Robert Zemeckis Films
8. Aliens (James Cameron, 1986)

A perfect non-comedy for a rainy day when you're down in the dumps. Aliens is simply terrific entertainment that takes you through the whole gamut of emotions. Not only is it instantly frightening with its lonely spaceship drifting aimlessly through deep space and Ripley's nightmare chestburster, it's constantly exhilarating with James Cameron's perfectly orchestrated action sequences and emotionally immersive thanks to Sigourney Weaver's powerhouse performance.
See also: Aliens (review) | Top 10 Marines in Aliens | Top 10 Sequels of the 1980s | Top 10 Sequels of All Time | Top 10 Girl Power Films | Classic Scenes #5 Aliens
7. Groundhog Day (Harold Ramis, 1993)

Bill Murray is great as a cynical, disgruntled weatherman who hates everyone but himself and has to live out a dreaded day over and over again until he learns to mend his selfish ways. This It's A Wonderful Life meets Scrooge concept is brilliantly told thanks to a great script and Murray's energetic performance.
See also: Bill Murray's Top 10 Sarcastic Remarks
6. A Fish Called Wanda (Charles Crichton, 1988)

A terrific cast along with the film's note-perfect script make A Fish Called Wanda an absolute delight. John Cleese and Michael Palin are both brilliant as they, despite appearing together, move away from their Monty Python careers. They are ably supported by the American contingent of Jamie Lee Curtis and Kevin Kline who, together, make one of the best ensembles of 1980s cinema.
See also: Top 10 British Comedy Films since 1980
5. The Goonies (Richard Donner, 1985)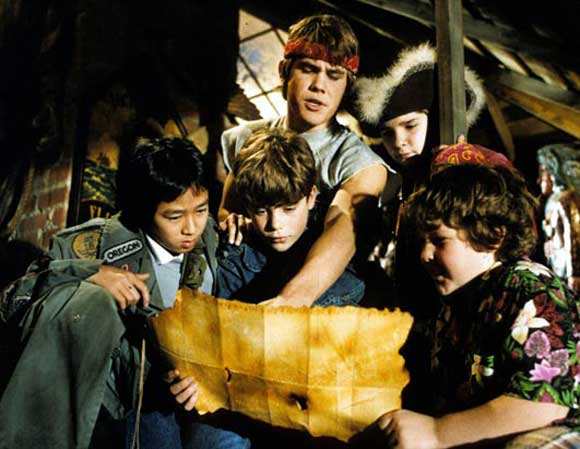 Kids on an adventure – it is easy to see why this film is great for a rainy day. Director Richard Donner has a great eye for humour while the action set-pieces are a lot of fun. It is underpinned by all the great characters from the children themselves to Anne Ramsey and the bad guys. This swashbuckling tale delightfully mixes its modern-day, modern-living setting with the simpler times of pirates battling on the open seas.
See also: The Goonies (review) | Top 10 1980s Childhood Adventure Films | Top 10 American Coming-of-Age Dramas of the 1980s | Top 10 Films of the Ten Year Old | Top 10 Suburbia In Peril Films
4. National Lampoon's Vacation (Harold Ramis, 1983)

Happy families. I suppose that's a big reason for loving National Lampoon's Vacation. Chevy Chase's Clark W Griswold might constantly find the world falling apart around him but he's always trying to do the right thing for his wife and children. Harold Ramis' film is warm, funny and based around one of the best characters of the 1980s.
See also: Top 10 Chevy Chase Films
3. Dirty Rotten Scoundrels (Frank Oz, 1988)

Michael Caine's reason for doing Jaws 4: The Revenge always makes me smile. Someone asked him why he had taken on a role in such a bad film. His reply was tinged with wry yet honest humour when he said he never read the script, he took the job because on the opening page it said the story was set in the Caribbean. Thankfully, while Dirty Rotten Scoundrels was a film Caine may have chosen due to its French Riviera setting, the film is undoubtedly more successful. The pairing of Steve Martin and Caine makes for one of the most memorable double acts of the 1980s while Frank Oz's direction is suitably sprightly for this tale of the double and triple cross.
See also: Top 10 Steve Martin Films
2. Jumpin' Jack Flash (Penny Marshall, 1986)

This was panned by critics and largely ignored by cinemagoers in the 1980s but it has remained one of my favourites since first seeing it as a child. The film features my favourite Whoopi Goldberg character and performance. Here she plays a lively but bored bank clerk who becomes embroiled in a plot to leave a British spy stranded in Eastern Europe. The film is fun from minute one and I'll always fondly remember Goldberg and her oversized toothbrush bopping to the Rolling Stones' classic track Jumpin' Jack Flash.
See also: Top 10 Whoopi Goldberg Films
1. The 'Burbs (Joe Dante, 1989)

This film will always warm my heart because it is set on a cul-de-sac. I grew up in a house on a cul-de-sac and Joe Dante's The 'Burbs, which never ventures outside its comfortable circular surroundings, captures the otherness of the "outside" while celebrating the inner social anxieties of the street's inhabitants. Of course, its cynical edge, wry humour, terrific score, great characters and murder-mystery plot all add up to one of the most brilliant black comedies of the 1980s.
See also: Top 10 Suburbia In Peril Films | Top 10 1980s Tom Hanks Films
Written and compiled by Daniel Stephens.
For all the latest top 10s, reviews and competitions follow Top 10 Films on Twitter!
Your turn – Which films do you turn to for an instant pick-me-up?
Discover More on Top10Films.co.uk:
Search our collection of Top 10 lists sorted by type:
THEME | ACTOR | DIRECTOR | TIME PERIOD | GENRE | COUNTRY | SPECIAL INTEREST | FUNNY
See the A – Z of films featured on Top 10 Films / Check out our film review database