I jumped into a time machine and went back to visit myself as a ten-year-old circa mid-1990s. I asked myself: what are your favourite films of ALL TIME right now…this was my reply…
All this talk of childhood got me thinking about my favourite films when I was ten. If I was to travel back in time and ask my ten-year-old self to name his top 10 films, what would they be? With a little creative thinking and a look at the latest releases around my tenth birthday (which occurred in 1993), I managed to come up with a list of films I believe closely resembles my favourites at the time.
Interestingly, and perhaps unsurprisingly, Steven Spielberg features very heavily. He has four films on my list, and mentored and produced two more. If you consider that Joe Johnston, director of Honey I Shrunk The Kids, which appears below, also went on to direct Jurassic Park 3, the second sequel to Spielberg's epic dinosaur classic, the mastermind behind Jaws, E.T. and Indiana Jones has a dominating presence.
But Spielberg is a kid at heart – Close Encounters of the Third Kind was about childhood innocence trapped in an adult body while E.T. allowed Spielberg to explicitly see the world through a child and Hook allowed him to vent his adult frustrations through the boy who never grows up. It is little surprise he makes, inspires, and produces great family films that work perfectly for young audiences. It is even more impressive that those films work just as well for adults – then and now.
"If I was to travel back in time and ask my ten-year-old self to name his top 10 films, what would they be?"
I remember watching Star Wars a lot, Aliens eventually became a favourite in my teens, as did Scream, but at ten, it was the following films that were on repeat in our VHS player.
10. Wizard of Oz (Victor Fleming, USA, 1939)

It was between this and The Sound of Music for "old" film favourites when I was younger.
9. Harry and the Hendersons (William Dear, USA, 1987)

John Lithgow quickly became a favourite actor after seeing this. The ending always made me cry; Harry the affectionately named Bigfoot always made me smile.
8. The Karate Kid (John G. Avildsen, USA, 1984)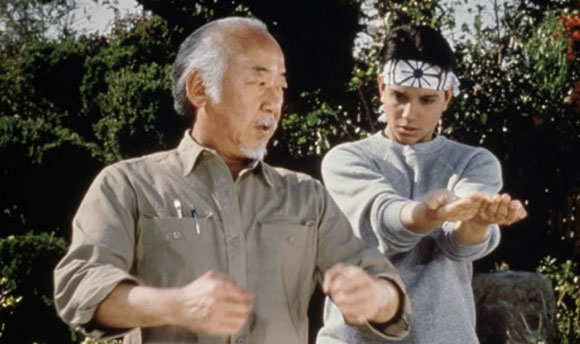 I had to endure endless "Daniel Son's" at school following this but I always loved that ending. I used to practice doing that kick on my sister!
7. Honey I Shrunk The Kids (Joe Johnston, USA, 1989)

I have distant memories of seeing this in the cinema. I do remember being truly immersed in it. The special effects were brilliant for the time.
6. The Goonies (Richard Donner, USA, 1985)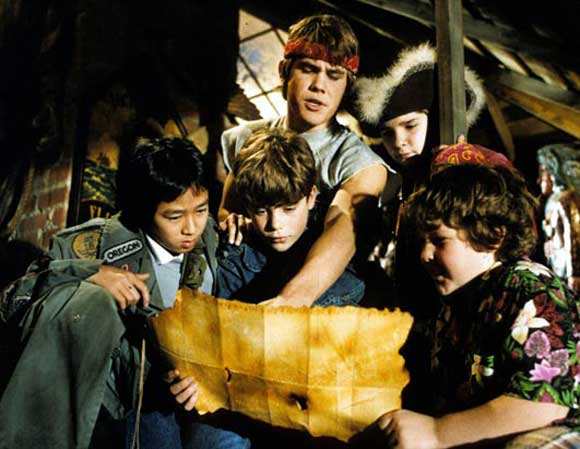 A great adventure story with brilliant characters who could endear themselves to all sorts of children.
5. Hook (Steven Spielberg, USA, 1991)

One of those films that has dropped off my "favourite2 radar since childhood but I remember seeing this in the cinema and, like Honey I Shrunk The Kids, being totally amazed by the special effects.
4. Raiders Of The Lost Ark (Steven Spielberg, USA, 1981)

I was bound to fall in love with this film. It was one of my mum's favourites and was endlessly played whenever we needed a "good film". I remember we had an ex-rental VHS copy of the film with no cover art on the box. As such, it became known as the film in the black box.
3. Jaws (Steven Spielberg, USA, 1975)

Words cannot describe my love of this film – then or now. A true masterpiece and the first horror film I ever saw.
2. Back To The Future (Robert Zemeckis, USA, 1985)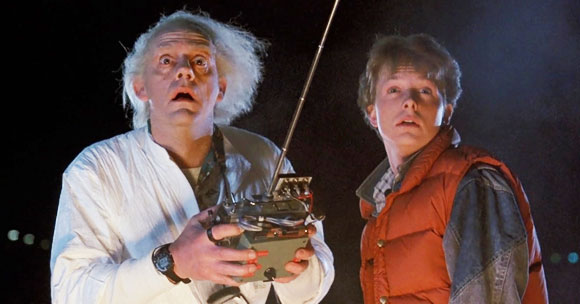 Special effects again. I never liked cartoons or animated films. I wanted to see things that looked real so live action special effects films became keen favourites of mine. Back To The Future was great because I loved the characters, the time travel, the music and Marty Mcfly's mum!
1. Jurassic Park (Steven Spielberg, USA, 1993)

The film that came out the year I turned ten. We went to see the film as a family – Mum, me, my sister and Nana. We all loved the film. Audiences hadn't witnessed special effects as seamlessly integrated with live action before. For my young mind it was a groundbreaking experience. I left the cinema dazed and confused and remember begging my mum to pre-order the video. It was the only film we ever pre-ordered before the advent of DVD.
Written and compiled by Daniel Stephens.
For all the latest top 10s, reviews and competitions follow Top 10 Films on Twitter!
Your turn – What were your favourite films when you were ten years old?
Top 10 Films of a Ten Year Old:
Chris @ moviesandsongs365
Andrew @ Gman Reviews
Discover More on Top10Films.co.uk:
Search our collection of Top 10 lists sorted by type:
THEME | ACTOR | DIRECTOR | TIME PERIOD | GENRE | COUNTRY | SPECIAL INTEREST | FUNNY
See the A – Z of films featured on Top 10 Films / Check out our film review database