Emerging in the 1980s was a series of films targeted at a younger audience through growing artistry in movie special effects. The childhood adventure film had never had it so good before or since.
Oh, how I love 1980s American film. It was the time of crass commercialisation, cocaine and high concept but the decade produced the films that shaped my early movie experiences. I've already looked at some of my favourite films from the 1980s including the Top 10 Coming of Age Films and the Top 10 Science-fiction Films for Children which have some crossover with this list: the Top 10 1980s Childhood Adventure Films.
Unsurprisingly for a child, the adventure story is one that instantly attracts. The sense of journeying into the unknown, the mystery, the characters along the way, good versus evil, triumph over hardship. The adventure story takes you away from the living room into the fantastical where dreams can come true. The 1980s saw some of the greatest adventure films ever made, particularly depicting children and teenagers from Bill and Ted's Excellent Adventure and Back To The Future to The Goonies and BMX Bandits. A key reason for the decade's abundance of great films in this genre is quite clearly due to Hollywood's willingness to spend a lot of money thanks in large part to the burgeoning special effects industry.
Through sci-fi (The Last Starfighter, Flight of the Navigator, Explorers), through history (Time Bandits), through fantasy (The NeverEnding Story) all the way to high-stakes tourism (Indiana Jones and the Temple of Doom) and even babysitting (the aptly titled Adventures in Babysitting). There was something for every taste and desire and I had a great deal of fun watching my fellow preteens as the central protagonists.
For the Top 10 1980s Childhood Adventure Films I'm focusing on children under the age of sixteen so there's no room for high school students such as Bill and Ted and Marty McFly. Here are not only a bunch of greats films, but some of my favourites of all time.
What are your favourite 1980s childhood adventure films?
10. SpaceCamp (Harry Winer, USA, 1986)

SpaceCamp was panned by critics and left high and dry by audiences in 1986. It isn't surprising – the film was released shortly after the Challenger disaster killed all seven on board the spacecraft. No one wanted to see a film about NASA space flight malfunctions. But, as time distances us from the real life event, the fictional SpaceCamp can be looked at for what it is. It's a simple tale that always endeared itself to me as a child. Despite it having two-dimensional characters and a cliché-ridden script, its sense of realism – that these kids were learning to fly a NASA space shuttle not a George Lucas X-Wing was interesting. Joaquin Phoenix is the young kid who joins a group of teens who accidentally end up orbiting Earth's atmosphere when the space shuttle they are testing malfunctions and has to deploy its boosters launching it into space. It is silly and predictable but affectionately told.
See Also: Top 10 1980s science-fiction films for children
9. Flight of the Navigator (Randal Kleiser, USA, 1986)

Flight of the Navigator sees twelve-year-old David Freeman head off to fetch his brother from a friends house. When walking home through the woods the two boys get separated, David falls and loses consciousness. When he awakens he pulls himself together and walks home. But when he gets home he finds his parents aren't there. Someone else lives in his house and they call the police. At the police station the officers in charge are astonished to learn that David has been missing for eight years. He is taken back to his family and he finds they have aged eight years while he still looks twelve. No one knows why but NASA, who have discovered an alien spacecraft, want to take the boy in for research. Unsurprisingly, the boy and the spacecraft have plenty in common. Flight of the Navigator is one of many family-based science-fiction films of the 1980s but distinguishes itself thanks to a great premise and some excellent special effects.
See Also: Top 10 1980s science-fiction films for children
8. Adventures in Babysitting (Chris Columbus, USA, 1987)

The title says it all really. Babysitter Chris, played by the beautiful Elisabeth Shue, ends up having the night of her life when the two children she is looking after accompany her into the city to save her stranded friend. Everything that could go wrong does go wrong as the kids get into many tight scrapes as the city descends into night. Firstly, their car breaks down and they become stranded on the expressway. Then the tow truck driver who eventually picks them up gets a call that his wife is cheating on him and the kids have to escape a hail of bullets by jumping into a car that is in the process of being stolen and driven to the chop shop. Getting away from the car thieves isn't easy as they pursue the children after one of them steals a Playboy magazine containing incriminating evidence. It doesn't get any easier as Chris gets separated from the group and ends up scaling a high rise building to escape. The Chris Columbus-directed film is a lot of fun that certainly targets a younger audience but has plenty of laughs for those adults willing to immerse themselves in the adventure.
See Also: Top 10 American Coming of Age Films from the 1980s
7. Time Bandits (Terry Gilliam, UK, 1981)

Written by Monty Python members Terry Gilliam and Michael Palin, Time Bandits was always going to be a unique experience. It brings that great Pythonesque quality to the time travel and fantasy genre as it celebrates history through the adventures of a small boy named Kevin. The special effects have a low-budget feel about them but that adds to the film's overall effect as it makes its way through mythical lands featuring Robin Hood and Napoleon Bonaparte while we even get a chance to spend some time aboard the Titanic. It is a mixture of outlandish humour, a celebration of mythology and history, and special effects that come together to make a great, exceedingly dark adventure story.
See Also: Top 10 1980s science-fiction films for children
6. The NeverEnding Story (Wolfgang Petersen, West Germany, 1982)

This German film was, at the time, the most expensive to be produced outside the USA or USSR. It is unsurprising given the amount of special effects present in the film. It tells the story of a young boy named Bastian (Barret Oliver) who becomes the central character of a book he begins reading about the fantastical world of Fantasia coming face to face with its destruction at the hands of The Nothing. The tale features an assortment of characters including the terrifying wolf-like beast Gmork (one of the scariest monsters ever created for a family film).
5. Honey I Shrunk The Kids (Joe Johnston, USA, 1989)
I have fond memories of seeing this one at the cinema. I would have been six years old. In fact, it was probably one of my first experiences of a cinema. I remember seeing Back To The Future part 2 as well, which was released the same year. What a great year it was! In Joe Johnston's fantasy-adventure, a group of children are accidentally miniaturised when a struggling inventor's latest contraption is unwittingly activated. The special-effects are excellent – especially for the imagination of a young child. The battle between the ant and the scorpion is a particular highlight – the two insects appearing to be the size of houses to the centimetre-high kids.
4. Explorers (Joe Dante, USA, 1985)

Joe Dante was another director – like Steven Spielberg and John Hughes – who had this innate ability to regress back to childhood. In Explorers, he examines the limitless possibilities of the imagination in a group of young teenagers who create a spaceship out of a fairground ride and fly off into space to meet a bunch of aliens they have been dreaming about. River Phoenix shows up in a role far removed from his cocky tough kid in Stand By Me. A very young Ethan Hawke joins him for their fantastic adventure. Despite a disappointing final third, this story of friendships and spaceships is classic fantasy from the 1980s.
See Also: Top 10 1980s science-fiction films for children
3. E.T. (Steven Spielberg, USA, 1982)

Steven Spielberg is a child at heart. As such he has an inherent ability to portray the idealism and sense of imagination that becomes lost as childhood develops into adulthood. In Close Encounters of the Third Kind, Spielberg was able to regress his preteen aspirations through Richard Dreyfuss' adult father figure. In E.T. he explicitly centres those emotions on ten-year-old boy Elliott. Shot from the point of view of a three and a half foot tall child, E.T. tells the story of a juvenile, good-natured alien left behind by his family after unscrupulous government agents try to capture their spaceship. Elliott and the alien form a unique bond as the human child tries to help it first acclimatise to earth and then find a way to call his family back to take him home. It is a story enriched with wholesome goals that Spielberg paints with a master's brush – the wonderful imagery (the flying bicycles leading to the iconic shot as they ride past a full moon), childhood innocence against adulthood cynicism, subtle use of special-effects, the incorporation of a fine John Williams score. The sequence when Elliott and his friends evade the government suits, the sustained oily rattle of BMX bike chains set against the grunting engines of government-issue motor vehicles, is one of my all time favourites. When those bikes take to the air to the astonishment of the adults watching on, it is impossible to stop the butterflies fluttering around my stomach. Like so many sequences in Spielberg's long list of cinematic masterpieces, the scene fills me with pure undiluted joy.
See Also: Top 10 1980s science-fiction films for children | Steven Spielberg Week | Top 10 Steven Spielberg Films
2. The Goonies (Richard Donner, USA, 1985)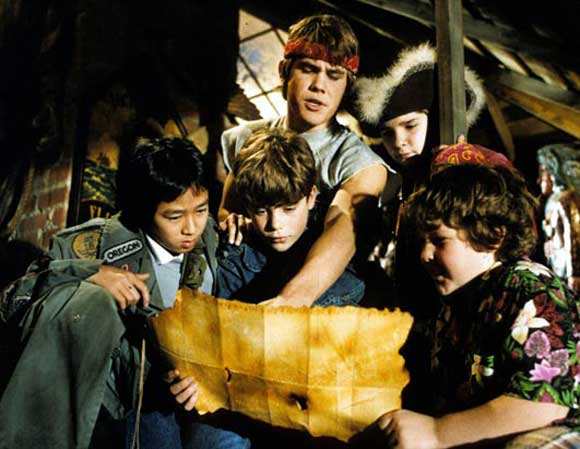 The opening sight of a skull and crossbones sets us up for swashbuckling adventure. Richard Donner mixes the search for buried treasure with teens coming of age as they try to find the loot that will save their homes from demolition. Aside from the great set pieces (including every kid's dream – a water slide into pirate One-Eyed Willy's secret hideaway), The Goonies is so much fun thanks to director Richard Donner's ensemble collection of characters. There's the kids themselves – each individually realised and brilliantly brought to the screen who have their idiosyncratic ways but relate individually and collective to the audience watching. Then there's the fantastic bumbling bad guys led by the brilliant Anne Ramsey and the monster of the story – Sloth – played by ex-professional football player John Daniel "Tooz" Matuszak.
See Also: Top 10 American Coming of Age Films from the 1980s
1. Stand By Me (Rob Reiner, USA, 1986)

It comes as little surprise the Corey's (of the Haim and Feldman persuasion) were teen idols of the Brat Pack age. Haim will be forever remember for the seminal coming of age classic Lucas, while the twosome appeared as vampire hunters in The Lost Boys and wannabe road hogs in License To Drive. Feldman however kept the limelight burning a little longer thanks to The Goonies and he's brilliant turn in Rob Reiner's Stand By Me. In fact, the ensemble that includes the late River Phoenix, Wil Wheaton and Jerry O'Connell, is one of the best young casts ever assembled. That they deliver such authentic, heartfelt performances is testament to their talent and the ability of director Reiner to work with youthful sensibilities. The scene in which River Phoenix breaks down in tears as he recalls how he has been unfairly singled out as the criminal of his school is affecting in its own right. But takes on even greater significance given the abundantly talented actor's death at only twenty-three years of age. As a tale of childhood innocence, friendship, the human spirit and imagination, Stand By Me is easily the greatest childhood adventure story ever told on film.
See Also: Top 10 American Coming of Age Films from the 1980s | Full Review
Written and compiled by Daniel Stephens.
For all the latest top 10s, reviews and competitions follow Top 10 Films on Twitter!
Your turn – What are your favourite 1980s childhood adventure films?
Discover More on Top10Films.co.uk:
Search our collection of Top 10 lists sorted by type:
THEME | ACTOR | DIRECTOR | TIME PERIOD | GENRE | COUNTRY | SPECIAL INTEREST | FUNNY
See the A – Z of films featured on Top 10 Films / Check out our film review database