The Temptress. The allure of female beauty and those characters who know exactly how to dominate their male counterpart through sexuality.
[ad#Google text Ad – square no border]
For any teenage boy watching late night television, the genuine allure of mellow-lit, pillow-squeezing, duvet-contorting bedtime sports was far more exciting sex education than grey-haired professors pointing chalky fingers at the cross section of the "female part". Thus Sylvia Kristel was of greater importance to us than Fred the Sperm.
Of course, this is long before the internet revolution changed the face of intimate alone time where the only company was a remote control with pause button and a box of Kleenex. Before the proliferation of free pornography made softcore erotica seem no more malevolent than the Teletubbies, these sexually provocative film characters were a teenage boy's window on the promised land.
For this top 10 I'm regressing back to the 1990s when me and my friends were idealistic teenagers in high school desperately seeking first base!
10. Emmy (Kim Cattrall) – Mannequin (Michael Gottlieb, 1987)

"Didn't I tell you, you're the only one who can see me like this."
Who is seduced: 1980s teen heartthrob Andrew McCarthy
9. Danielle (Elisha Cuthbert) – The Girl Next Door (Luke Greenfield, 2004)

"Hi, I'm all wet. Can I come in?"
Who is seduced: A lucky high school senior played by Matthew Kidman
8. Nicole Mallow (Sylvia Kristel) – Private Lessons (Alan Myerson, 1981)

"What happened to him should happen to you."
Who is seduced: Eric Brown who is so glad he got a babysitter despite being 15.
7. Nomi Malone (Elizabeth Berkley) – Showgirls (Paul Verhoeven, 1995)

"You can't touch me, but I can touch you. I'd really love to touch you."
Who is seduced: Everyone!
6. Kelly Van Ryan (Denise Richards) – Wild Things (John McNaughton, 1998)

"Can I play too? Or is it just for boys?"
Who is seduced: A high school guidance councillor played by Matt Dillon
5. Lana (Rebecca De Morney) – Risky Business (Paul Brickman, 1983)

"Now that's quick Joel. Have you always been this quick, or is this something new?"
Who is seduced: Mr Top Gun himself Tom Cruise
4. Linda Barrett (Phoebe Cates) – Fast Times at Ridgemont High (Amy Heckerling, 1982)

"Did you see his cute little butt?"
Who is seduced: the entire school at Ridgemont High
3. Lisa (Kelly LeBrock) – Weird Science (John Hughes, 1985)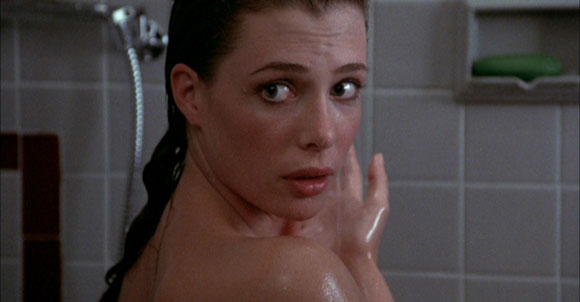 "So, what would you little maniacs like to do first?"
Who is seduced: It is a threesome – high school kids Anthony Michael Hall and Ilan Mitchell-Smith
2. Mrs Robinson (Anne Bancroft) – The Graduate (Mike Nichols, 1967)

"Would you like me to seduce you?"
Who is seduced: Tootsie herself Dustin Hoffman
1. The Girl (Marilyn Monroe) – The Seven Year Itch (Billy Wilder, 1955)

"When it gets hot like this, you know what I do? I keep my undies in the icebox!"
Who is seduced: Publishing executive Tom Ewell
Written and compiled by Daniel Stephens.
Don't forget to follow Top 10 Films on Twitter!
Your turn – …which female temptress had you befuddled as a hormone riddled teenager?
Discover More on Top10Films.co.uk:
Search our collection of Top 10 lists sorted by type:
THEME | ACTOR | DIRECTOR | TIME PERIOD | GENRE | COUNTRY | SPECIAL INTEREST | FUNNY
See the A – Z of films featured on Top 10 Films / Check out our film review database