A nameless stuntman moonlights as a getaway driver for unscrupulous criminals. He's great at his professions – both of them. But having a conscience in this business can get you killed.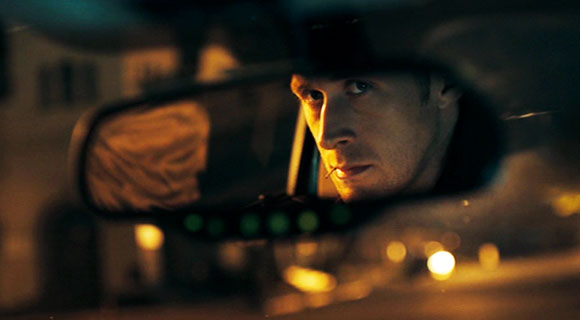 Drive is a film that moves with meticulous ease. It is carefully considered and quietly assured before displaying, like flashes of lighting during a thunder storm, a breakneck sidestep into the muddy waters of man's most violent fantasies. From time to time, its sedate majesty tumbles from the cliff's edge and we are pummelled with a kinetic energy bathed in blood. Much like the anonymous driver himself, played here by Ryan Gosling, there's two sides to every story. And as we see, sometimes, there's two sides to every person as well.
It is easy to see why the driver, who is never named, has remained under the radar. And this is echoed in director Nicolas Winding Refn who, despite having success with the British-made Bronson and a Danish film trilogy beginning with Pusher in 1996, has also found himself the rather nameless creator of some sparkling work. Even Drive, which has wowed audiences and become a darling with the critics, sheds any assumptions it might have had to join the ranks of the high-concept blockbuster. The film is suave, it's unhurried; it shirks characterisation and generic convention yet its subtle mix of film noir, 1970s urban street cinema, and b-movie simplicity feels oddly familiar. Its collection of influences coupled with an arms length ambiguity is both seamless in its construction and overwhelmingly engaging. Refn therefore stirs the senses with the artistic allowances privileged to independent cinema while shooting his audience with the sort of adrenaline rush only dreamed of by big budget action blockbusters.
Drive is essentially for those that like films to pack a punch both in their graphic violence and their characters. Refn's pacing is hardly akin to the driver's pedal-to-the-metal abilities with a car, but like the unflustered nature of the stuntman's breakneck speed there's a precise perfection to the unravelling of a thoroughly captivating story. It all begins with the driver expertly evading police following a robbery. Evidently, he moonlights as a getaway driver for unscrupulous people he'd rather not know. His rules are simple: "If I drive for you, you give me a time and a place," he tells his employers. "I give you a five-minute window, anything happens in that five minutes and I'm yours no matter what. I don't sit in while you're running it down; I don't carry a gun…I drive."
Refn immediately has us hooked. We are thrust into his latest job; Driver is checking the watch he has wrapped around the steering wheel with calm indifference (he has a police radio tracker in one hand while he turns up the car's radio to hear the latest score from the night's ballgame). Despite his obvious aloofness, it is sweaty palm time. It must be that glorious effect of the sound of a ticking clock.
As the driver begins his getaway plan Refn mixes the sound stage with glimpses of the police radio band intermittently cutting into the public radio's sports coverage while the car engine's exhaust sings the throttle's tune with delicious bombast. It is energetic, feverish action entertainment that recalls the brilliance of The French Connection's front-mounted camera speeding through the streets of New York. Refn, equally as impressively, chooses to mount the camera inside the car from a rear seat view, mixing establishing shots of our host with views as if looking out the back window. It is stylish and effective, immersive in its authenticity, invigorating in its artistic endeavour; traits the film maintains from minute one until the credits roll.
Ultimately, Drive is a thoroughly fascinating piece of cinema. As a great anti-hero story, we have a protagonist whose addiction to perfection forces him to move above and below the law rendering him an unknown, a social outcast. The enigma of the driver is an ambiguous hook the film entertains to its fullest. And so, when Carey Mulligan's well-meaning mother-of-one becomes a close alley and potential lover, the driver's shady moonlight enterprise becomes the dirty spanner in an otherwise perfectly oiled works. It is wonderful to see the driver's almost robotic purity shed its metallic sheen for something more humanly organic. And so we have the trappings of almost perfect drama – a bank heist gone wrong, an underworld peppered with those you cannot trust, 100-mile-an-hour car chases, and the push-pull romantic entanglement of two lovers on the wrong side of the tracks. Without a doubt, Drive is one hell of a ride.
Directed by: Nicolas Winding Refn
Written by: Hossein Amini
Starring: Ryan Gosling, Carey Mulligan, Bryan Cranston, Christina Hendricks, Ron Perlman, Oscar Isaac, Albert Brooks
Released: 2011 / Genre: Action/Thriller / Country: USA / IMDB
Buy on DVD:
Amazon.co.uk: DVD
| Blu-ray

More reviews: Latest | Archive